If you are a job seeker or looking for work in canada and are fed-up applying for jobs but have not received any response then this article blog is for you.
IF YOU WANT TO SEE THE CHANGE IN THE WORLD,  THEN BE THAT CHANGE
It is the time to focus on the canadian style resume for jobs in 2023. It is very crucial now to create your resume canadian market friendly if you really looking to have a positive response. It should be catchy for the recruiters.  Our top priority should be to write a CV which could effectively showcase your skills and accomplishments.
Remember, Your resume is your first impression in your absense- Hence make it count!
While there are many opportunities in Canada for foreign workers. Employers in Canada welcome with open hearts and open arms. If they spend thousands of Dollars on you then you should impres them with your skills, passion and experience through your Resume.
It is very important to make canadian friendly CV and follow the Canadian Resume Format. In this post, we will tell you about the Resume format for Canada and Job Opportunities.
Canada Friendly Resume Format Explained for year 2023
Just like European countries they follow a Europass CV Format, Canada has its own resume format.
Here's a comprehensive guide on what to add to your Canadian Resume:
Style and Personal Details
No Photos: Avoid using photos on your resume.
Minimal Personal Details: Include only your name and contact information.
Avoid Irrelevant Information: Omit age, ethnicity, physical attributes, marital status, or personal preferences.
Adapt Your Resume
Customization is Key: Tailor your resume for each job, especially focusing on recent work experience.
Follow Job Posting: Align your resume with the specific requirements mentioned in the job posting.
The Job Ad or Posting
Prioritize Requirements: Address the top requirements first as listed in the job posting.
Customize for Each Role: Modify your resume to emphasize skills and accomplishments relevant to the job.
Mind the Length
Concise and Relevant: Aim for a 2-page resume; juniors may opt for one page, while seniors with more experience can go up to 3 pages.
Quality Over Quantity: Don't sacrifice details for brevity.
Include Volunteer Work
Relevance Matters: Integrate volunteer experience if it's pertinent to the job.
Use Social Media
Online Presence: Include links to your LinkedIn profile or relevant online portfolios.
Mind Your Digital Image: Be cautious about what you make public on other social media platforms.
Formatting Hints
Organized Layout: Ensure a neat, clear, and consistent format.
Use Headings: Organize sections with headings like Highlights of Qualifications, Professional Experience, and Education.
Highlight Important Information: Use bold and bullets to emphasize key details.
Use Keywords
Match Job Requirements: Incorporate keywords from the job posting and the company's website.
Be Genuine: Don't fabricate experiences to fit keywords.
Proofread
Accuracy Matters: Verify company names, job titles, and dates.
Review Format: Print or save as a PDF to check formatting.
Sample Resumes
Chronological Resume: Organized by time, suitable for experienced individuals. Sample attached
Functional Resume: Skills-based, ideal for recent graduates or career changers. Sample attached.
Canadian Friendly Resume Template 2023
I have attached a few Canadian style resume templates for your help. It is simple, clean, and easy to understand for Canadian recruiters.
Below are the Canadian style resume templates. You can download these images.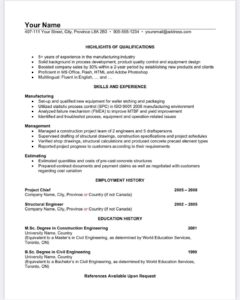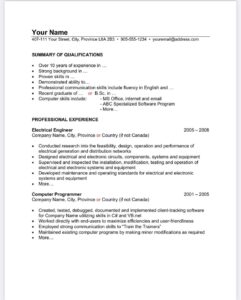 Job Bank Canada Resume Builder
The Job Bank Canada is the official website of the Canadian Government that lists Jobs for Foreign workers. Job Bank has a special tool "Resume Builder" that generates a well-organized resume based on your qualifications, work experience, and education.
When you're finished, you can save, download, and print your professionally formatted resume. Create your resume through Job Bank by accessing the Resume Builder Page.
Popular Occupations in Canada Invited for Permanent Residency
Software Engineers and Designers: 3,848 invitations
Information Systems Specialists: 1,889 invitations
Computer Systems Developers and Programmers: 1,855 invitations
Food Service Supervisors: 1,558 invitations
Database Analysts and Data Administrators: 1,025 invitations
Computer and Information Systems Managers : 855 invitations
User Support Technicians: 842 invitations
Advertising, Marketing, and Public Relations Managers: 812 invitations
Customs, Ship, and Other Brokers : 945 invitations
University Professors and Lecturers: 955 invitations
Financial Auditors and Accountants: 857 invitations
Administrative Officers : 800 invitations
Professional Occupations in Business Management Consulting: 901 invitations
Cooks: 728 invitations
Job Opportunities in Canada for Foreign Workers
Canadian govt is aiming to bring up to 500K immigrants by 2025. This is the current immigration plan. So, far there are many opportunities in Canada. I have made some articles on that.
LMIA Approved Jobs in Canada 2023
Canada Digital Nomad Visa 2023
Recruitment Agencies in Canada for Foreign Workers (2023)
How to Convert Canada Visitor Visa into Work Permit in 2023
Nanny Visa Sponsorship Jobs in Canada 2023
P&H Farming Jobs in Canada 2023 (With Visa Sponsorship)
Canadian Government Visa Sponsorship Jobs 2023